Protected Bike Lane Project Debuts During Open Streets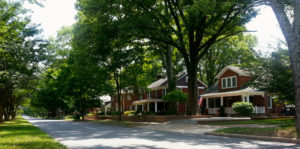 What might it be like to have easier, safer bike connectivity between Charlotte's Plaza Midwood along one of the city's busiest connector roads? We'll all get to see it – and try it – during a protected bike lane demonstration during the May 7 Open Streets 704, powered by Blue Cross and Blue Shield of North Carolina.
As part of the event's day-of happenings, Charlotte Department of Transportation planners, with volunteer assistance from Sustain Charlotte and local consultants, will set up a temporary or "pop up" protected bike lane on The Plaza from Central Avenue to Mimosa Avenue. This demonstration is the first-of-its-kind in the Queen City. Practically speaking, the protected lane will help people in Plaza Midwood, Villa Heights, Optimist Park and NoDa get to and from the event route more easily by bike. Big picture, it will give anyone who wants to ride or drive it the opportunity to get a feel for how bikes and cars can coexist on busy streets.
Cyclists will be protected in the pop-up bike lanes by tall orange delineators (the slender cones you typically see installed permanently on the street to keep drivers from crossing over a lane) and a 3-foot striped buffer. In addition, temporary staging areas will be set up at the intersection of The Plaza and Central Avenue to give cyclists room to make a safe crossing. As an added measure of safety, a Charlotte-Mecklenburg Police Officer will also be stationed at the intersection for anyone who needs extra help crossing Central Avenue.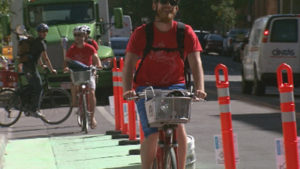 The pop-up demonstration is part of a larger picture for cyclist safety in our city. While these temporary bike lanes will be removed following the Open Streets 704 event, the Charlotte Department of Transportation is currently working on a pilot project to install a protected bike lane across uptown. That project will eventually connect to Little Sugar Creek Greenway (in the east) to Irwin Creek Greenway (in the west) and would give cyclists of all abilities a comfortable way to travel through Uptown.
Want to glimpse into the future? Then come out on to Open Streets 704 on May 7 and get a look at what could be a safer, more accessible Charlotte!
About Open Streets 704 powered by Blue Cross Blue Shield of North Carolina
Open Streets 704, rolled out by Blue Cross Blue Shield of North Carolina, is also made possible by a generous grant from the Knight Foundation, in partnership with Partners for Parks, Mecklenburg County Government, the City of Charlotte, Mecklenburg County Park & Recreation, the Mecklenburg County Health Department, the support of Charlotte B-Cycle, the Charlotte Chamber's Healthy Charlotte Council, and the Charlotte-Mecklenburg Police and Charlotte Fire departments.
For more information, check out http://openstreets704.com, or stay connected with the program on Facebook and Instagram!