As they say in the walkability business, every trip starts and ends as a pedestrian trip. Think about it… even if you're on your bike, in your car, or taking public transit, you've still got a little walking to do. No matter how many steps you'll take, the City of Charlotte's Pedestrian Program works to make those steps as safe, inviting, and accessible as possible. Walkability and connectivity are big parts of the Open Streets 704 concept, and the Pedestrian Program is a major player in making that happen. Here's a short list of their 2016 program highlights!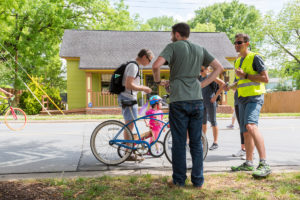 Happy New Year from Charlotte's Pedestrian Program!
It's been an exciting year for walkability in Charlotte…
In the last 12 months City projects constructed over 10 miles of new sidewalk and new/improved pedestrian crossings in approximately 20 different locations.
In May Charlotte was re-designated as a Walk Friendly Community for showing "great commitment to creating a safe, walkable, and livable community."
This fall we launched an EcoCounter pilot project with NCDOT. The project represents the first time Charlotte has used continuously monitoring pedestrian/bicycle counters on city streets. The data from those counters will help us to evaluate facility usage, inform future capital investments, and celebrate our high volume ped/bike corridors.
Our first ever pedestrian plan, Charlotte WALKS, is working its way toward adoption by Charlotte City Council after getting input from over 1,000 people over the past two years. A draft of the Charlotte WALKS plan is currently available for review at www.charlottenc.gov/CharlotteWALKS.
Finally, this is the year that saw the launch of the remarkable Open Streets 704 initiative! Roughly 25,000 people participated in Open Streets 704 in 2016. In surveys, 95% of participants said that Open Streets 704 improves their feelings about Charlotte, and 99% believe it strengthens our community!Open Streets 704 is a collaboration between the Knight Foundation, the City of Charlotte, Mecklenburg County Park & Rec, Mecklenburg County Public Health, Partners for Parks, CMPD, Blue Cross Blue Shield NC, and many others. The next Open Streets 704 event will be on Sunday May 7, 2017. (Mark your calendars!)
Exciting progress like that doesn't happen without lots of folks from lots of different departments, firms, nonprofits, neighborhoods, organizations, etc. working together to make Charlotte a better place to get around on foot. I'm very grateful for the important work that you do! Thank you.
Happy New Year, and thanks for all you do to make Charlotte a more walkable place!
Want to know more about the City of Charlotte's Pedestrian Program? Check them out at http://charlottenc.gov/Transportation/Programs/Pages/PedestrianandSidewalk.aspx
# # #