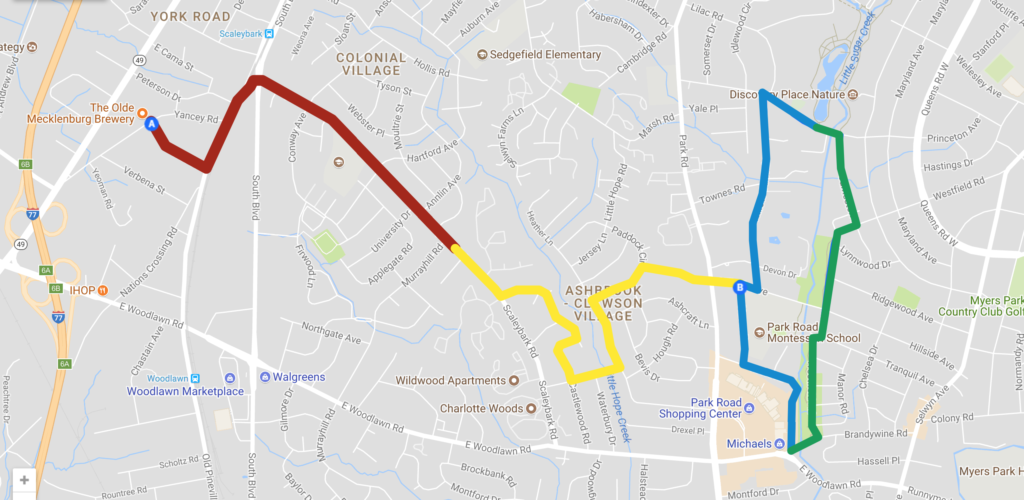 Charlotte, NC — Open Streets 704 powered by Blue Cross Blue Shield of North Carolina loops even more neighbors and businesses together for a bigger, more diverse event.
The October 15 Open Streets route will feature a roughly 5.5 mile loop that connects Madison Park, Selwyn Park, Montford Park, Freedom Park, Myers Park, Ashbrook, LoSo, and Colonial Village neighborhoods. Highlights include the LoSo brewery hotspots, Freedom Park, and Park Road Shopping Center. Neighbors and businesses along the route will be notified soon so they can plan accordingly. The route map is available now at http://openstreets704.com/route/
The first three Open Streets events attracted more than 50,000 people to routes through Charlotte's west side, east side, historic South End, NoDa, and surrounding neighborhoods. This is the fourth in a series of four Open Streets events launched by a two-year grant from the Knight Foundation.
Open Streets events create a temporary, linear park by opening the roads to pedestrian, bicycle, and other "people powered" transportation, so the streets can be used for walking, cycling, dancing, playing, and connecting neighbors. Open Streets programs have proven to be successful at achieving goals related to recreation, public health, and active transportation.
Open Streets 704, powered by Blue Cross Blue Shield of North Carolina, is also made possible by a generous grant from the Knight Foundation, in partnership with Partners for Parks, Mecklenburg County Government, the City of Charlotte, Mecklenburg County Park & Recreation, Mecklenburg County Public Health, the support of Charlotte B-Cycle, the Charlotte Chamber's Healthy Charlotte Council, and the Charlotte-Mecklenburg Police and Charlotte Fire departments.
For more information, check out http://openstreets704.com, or stay connected with the program on Facebook and Instagram!