Original article can be found here.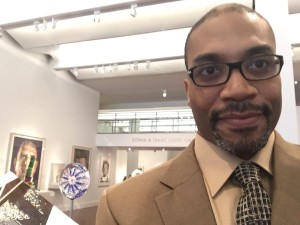 Charles Thomas took over as the Charlotte program director of the John S. and James L. Knight Foundation in February. When I asked him about his vision for Charlotte, he referenced "Star Trek."
"Personally I do have a vision for the city and for the world which some would say is utopian," Thomas said, "of where we are all, we get along, we know each other, we know our neighbor, we support one another, that there's less kind of walls and barriers and fear that separates us and more things that unite us. …
"I think I have kind of a 'Star Trek' vision of the world. … This idea of how 'Star Trek' was developed of being this place of a united federation of the whole world, so that we're working as one peoples."
Thomas joined The Good News Is podcast to talk about his new role and the future of Charlotte.
He's toughtful, full of energy and not afraid to share his ideas for how to improve Charlotte. And the man knows Charlotte. He grew up here, in Grier Heights, and went to school at East Mecklenburg High.
He acknowledges the help he got from people and organizations along the way: teachers, mentors, internship programs, etc. That experience has at least partially shaped the work he's done as an adult.
"There were so many influential people that helped me that I felt took the time to make a path for me," he said. "So definitely growing up without a lot of money, without a lot of resources made me thankful for what I had and made me want to create opportunity for others. …
"I want to do that for Charlotte. I have a passion for the city, I have a passion for the city to be open and available to others so that other folks can advance."
A professional photographer, he was director of education at The Light Factory, a nonprofit "committed to photography and film as a means of enriching lives and transforming communities," according to its website.
Thomas was also founding executive director Queen City Forward, an hub for social entrepreneurs that aims to "unleash the potential of high-growth, high-impact social entrepreneurs in Charlotte to create sustained economic and social impact that spurs economic development, improves the lives of citizens, and drives a new model of sustainable growth," according to its website.
Thomas started with the Knight Foundation in February after Susan Patterson retired last year. The Knight Foundation, with communities in 26 cities, aims to foster new ideas to improve journalism, media innovation, community engagement and the arts.
The Knight Foundation has its hands in all kinds of initiatives, from transportation to events like BOOM Charlotte. But Thomas would really like to see the city work on is its creative economy.
"I think we should slow down a little bit and think about what is culture and embrace those artists and creatives that are doing it, and figure out a way to support them and help them to grow and help their organizations to grow," he said. "Otherwise we're going to find that we have a big city but we don't have the cultural soul that attracts people."
Want to get involved?
Visit knightfoundation.org for more information. And, as Thomas said, just go out and get involved.
"There was a time where people would say there's not that much going on in Charlotte," he said. "But there's a lot going on in Charlotte now."